RIDERS IN THE SKY at the WISCONSIN OPRY!!!
Baraboo, WI September 19, 2004

By Bobbie
All photos open to much larger versions when clicked!
I haven't posted a real review for quite a while, but after September 19's show at the Wisconsin Opry, I just have to put one up! It was an extremely enjoyable show for our family in many ways! This was the first trip that we have take Alex on, and I do believe he liked it as much as we did!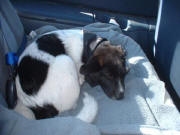 Alex slept most of the way,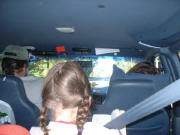 riding in the back of the van with me. James always ride shotgun on trips, and happily, Al was up to driving both ways! It was an enjoyable trip, with no misadventures, and only one stop for Alex that we all took advantage of. Unfortunately, it was at an exit where there was no re-entry, and delayed us about a half hour while we chased down a path back to the expressway! We weren't sure how Alex would adapt too such a long ride, but have broken him into car riding with many trips to the kids house about 75 miles from us. James, being 15 now, and a normal teenager, has lost his enthusiasm for cowboy music but he was eager to come along when he found out we'd give him the price of his tickets if he would dog sit with Alex during the shows. It worked out really well, as Jessie of course wanted to show her new puppy off to her cowboys!
This show was a real last minute decision. We wanted to do it, but were afraid that it wouldn't work out. Fortunately, tickets do not have to be purchased before the show, just reserved, so we were not obligated to go. And it's general admission with seats on a first come first sit basis, so we always get there nice and early. We arrived about an hour before the performance ... not early enough to get our usual front row seats, but even in the second row my neck hurt during the first show with the stage being only about 5 feet in front of us!
Seeing the Riders at the Wisconsin Opry also includes getting to watch the folks from the Wisconsin Opry perform and over the years we all have come to look forward to their show too. The first show was the first time we were able to see five Dickinsons on the stage at one time. They included Virgil and Cindy, their son Ken who is on the left,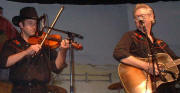 and daughters Stephenie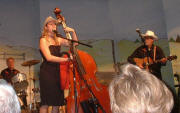 and .....who is in the middle of this one.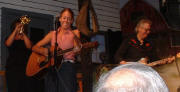 My poor brain needs refreshing on the guitar players name. It is escaping me as I write this. :(. That's dad Virgil to the right of Stephenie, and Cindy to the right of Ally in this one. This last one is Ally Moyer who sings fantastically well in the the style of Patsy Cline.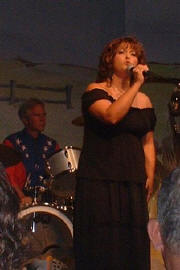 As per usual, the show started off with folks wondering 'Where's Woody', but not quite in the usual way. In this shot Toy Story Woody is barely visible, and he had to be freed by our Woody during the first show.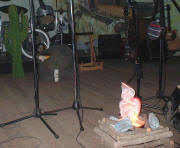 While the show was wonderful as always, with several new songs from the Davy Crocket album and the guys usual antics,
`

things didn't really get going till the evening show, which typically is alot looser and more spontaneous. Of course, in between shows we were able to chat and take some pictures.
I kept a playlist for the second show ... something I've usually been distracted from the last few years ... and after introducing Woody as the star of the upcoming "Oh Brother, Where Am I", the songs went like this
Texas Plains
How Do You Yodel
Miss Molly
Riding Down The Canyon
How High the Baraboo - Lake Delton Moon
Night Riding Song
Phantom of the Chuckwagon
Burning Moonlight
And then Lucy, a regular at the Baraboo shows, and who has yodeled for us in past years, was invited to join the guys onstage. She and her husband celebrated their 60th anniversary this year, and she is a great grandmother, but she sure can still belt out a song. For her first song she sang Chime Bells, but then Lucy had a hard time deciding on what to sing for the second one. She asked Ranger Doug if she could borrow his guitar, but with the strap adjusted for Doug it was a very lose fit for Lucy, so a stool was found for her to sit on. Thing got pretty silly during the lull in the show, and then even more so once she started singing The Blue Skirt Waltz. Doug, who was instrumentless, went over to a keyboard and started playing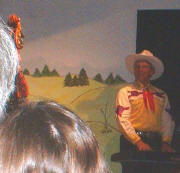 and for a while Slim and Doug were even waltzing together!. Then Virgil passed a banjo out to Doug, and Slim headed for the drums that were on stage from the Opry's show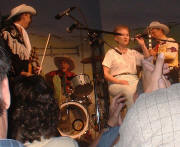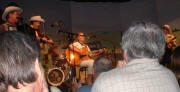 . Joey grabbed a cymbal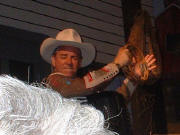 and somewhere along the line Woody and Slim exchanged hats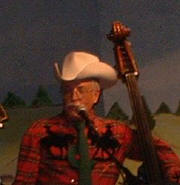 , and eventually Joey and Woody exchanged instruments, too!.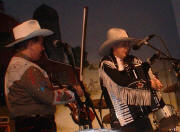 It was all just tooooooooooo much fun and when Lucy left the stage, someone said something about a talent show, and Doug asked if there was anyone else in the audience who wanted to yodel with them and there WAS!
Maggie May, the owner of Maggie Mae's Cafe in Oxford WI, said she just learned to yodel and would love to sing with them! Maggie sang The Cowboy Song, I believe it was, and it was wonderful! She has only been yodeling a few months but is obviously a long time singer and has a wonderful voice! Maggie also request use of Doug's guitar, and Doug ended up back on the banjo!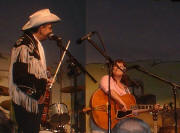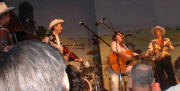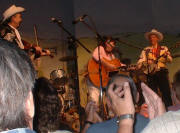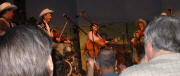 When she finished Ranger Doug commented that if two folks in a random audience and get up and yodel that good, maybe he'd better open a restaurant!! :)
When everything went back to normal, the guys continued on with the show...They sang Cimarron and then took requests! (REAL ONES! :) )
Riders In The Sky
Autumn on the Trail
Don't Fence Me In
Tumbling Tumbleweeds
Davy Crocket
and Back in the Saddle again rounded out the show
After Happy Trails To You, and almost leaving the stage, they returned for
Woody Roundup and Red River Valley
Of course the best was yet to come................. AUTOGRAPHS and PHOTOS!

(I'm currently working on this and updated periodically..... more coming soon!)